Ankara has said recent remarks made by an Armenian government official expressing his country's readiness to establish diplomatic ties with Turkey without conditions does not amount to a new expansion in bilateral ties.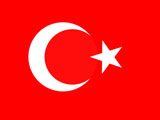 "Similar statements have been made by the Armenian government at various times and the latest declaration does not signify a new expansion," said a written statement released by the Turkish Foreign Ministry late on Thursday.
Speaking to reporters on Wednesday after visiting the family of assassinated Turkish-Armenian journalist Hrant Dink, Armenian Deputy Foreign Minister Arman Kirakosian said, "Armenia's wish is for diplomatic relations to start without any conditions."
In the statement, Foreign Ministry spokesman Levent Bilman said Turkey wanted to improve ties with all its neighbors based upon mutual trust and respect but emphasized that maintenance of cooperation and the strengthening of bilateral and regional ties was not possible through measures taken by Turkey alone; a common will and joint steps were necessary.
Turkey and Armenia have no diplomatic relations, and the border between the two countries has been shut since 1993 because of Armenia's unresolved conflict with Azerbaijan – a close Turkish ally – over the disputed Nagorno Karabakh, an Azeri territory occupied by Armenians. Relations are further complicated over the World War I-era killings of Armenians at the hands of the Ottoman Empire.
Hopes have risen for normalization of Turkish-Armenian ties, with the Turkish government extending an invitation to both Yervan and the Armenian diaspora to participate in Dink's funeral, an intellectual who exerted efforts for reconciliation between Turkey and Armenia.
Turkish government officials had talks with Armenia's deputy foreign minister on Wednesday in a constructive and positive atmosphere, said the ministry statement.
"We sincerely hope that the tragic event that took place in our country last week will contribute to a new atmosphere in Turkish-Armenian ties and Armenia will reciprocate our well-intentioned efforts aimed at overcoming stagnation in our relations," it added.
The ministry also said the Turkish government's proposal to Armenia to set up a joint commission of academics from the two countries to study genocide allegations was a concrete example of Turkey's intention to open dialogue with its neighbour. Turkish Daily News