"Armenian's unconstructive position impedes the influence of any effort on the settlement of Nagorno Karabakh conflict," head of the Azerbaijani delegation to OSCE Parliamentary Assembly, vice-speaker Bahar Muradova said.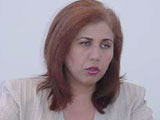 Muradova said that Azerbaijan and Armenia have their own positions concerning the report of OSCE PA chairman, co-rapporteur on Nagorno Karabakh Goran Lennmarker and it was impossible to bring these positions close.
"All decisions in OSCE are adopted by consensus. Therefore it was inexpedient to raise the report with so many contrasted positions to discussion. There is no change in these positions. I think that in case there are no changes, serious achievement or positive result in the process of negotiations, OSCE officials will again consider it inexpedient to raise this report to discussion," she said, APA reports.