Foreign mediators trying to resolve a long-standing territorial dispute between Armenia and Azerbaijan voiced optimism, but appeared to diverge Thursday on whether the resolution of Kosovo's final status would be a firm precedent.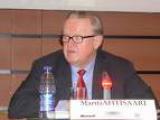 Diplomats from Russia, France and the United States have headed efforts by the Organization for Security and Cooperation in Europe's so-called Minsk Group to resolve the Nagorno Karabakh problem. The mountainous territory inside Azerbaijan has been controlled by ethnic Armenian forces since the early 1990s, and tensions remain high between Armenia and Azerbaijan.
In Kosovo, Russia backs demands by the Serbian leadership that it should stay part of Serbia while the United States favors independence for the province. President Vladimir Putin has suggested that should Kosovo be granted independence, that would have a direct effect on how other lingering separatist disputes in the former Soviet Union are resolved.
Chief U.N. envoy Martti Ahtisaari plans to disclose recommendations on Kosovo's future to Western governments and Russia on Friday.
Following a visit Thursday to Khankendi Russian diplomat Yuri Merzlyakov said Kosovo's final status would be a precedent for the Armenia-Azerbaijani dispute.
"I consider naturally that it will set a precedent. The decision could be one thing or another because the talk is about the status of autonomy for a province in Kosovo. Naturally, there could be other opinions," he said.
Diplomats from the United States and France disagreed.
"There isn't any sort of universal precedent and each situation, every conflict differs from every other conflict," said Matthew J. Bryza, a U.S. deputy assistant secretary of state.
"Each conflict has its own difficulties and it's necessary to resolve conflicts on the basis of the particular aspects that each has," said French diplomat Bernard Fassier. The Associated Press
/The International Herald Tribune/