"Establishing Association of Israelis of Azeri origin is a good idea," said Israeli Ambassador to Azerbaijan Arthur Lenk.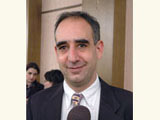 "Notwithstanding Israelis left Azerbaijan live in Israel, they love Azerbaijan and always think about this country. We should unite our efforts to strengthen the relations between the two countries. We will do our best," he told the APA exclusively.
The member of the Israeli parliament of Azeri origin Iosif Shagal is in Baku at present and holds meetings to get Azerbaijan's support to establish this Association.