Turkey is willing to establish friendly ties with neighboring Armenia, Foreign Minister Abdullah Gul said on Wednesday, adding the caveat that this would not be possible without the full cooperation of both sides.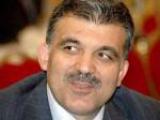 Asked about implications for Turkish-Armenian relations following the assassination of Turkish-Armenian journalist Hrant Dink, Gul said, "Turkey aspires to enjoy friendly ties with all of its neighbors on the basis of mutual trust and respect and we want to establish ties with Armenia as well."
The foreign minister's remarks came at Ankara's Esenbo?a Airport before his departure for France where he will participate in a meeting of donors to rebuild war-torn Lebanon.
Mr. Gul stressed that Turkey had no hostility toward any of its neighbors but said that establishing friendly ties was only possible with steps from both sides, adding that Armenia should review its thoughts and feelings toward Turkey.
The funeral of slain Turkish-Armenian journalist Hrant Dink on Tuesday brought Turks and Armenians together. Armenian government officials and moderate figures from the Armenian diaspora attended the funeral at the invitation of the Turkish government
"Representatives from [Armenia] came and saw; Turkey has no hostility toward anyone," Gul said.
But he noted that Armenia should not come up with unfair demands from Turkey – such as the recognition by Ankara of the alleged genocide of Armenians at the hands of Ottoman Empire – in return for normalization of bilateral ties. On genocide claims, G?l repeated the Turkish government's proposal to set up a joint commission of Turkish and Armenian academics to study allegations. Gul said all of Turkey's archives, including the classified ones, were open for any research. "It's no use of feeding hostilities in this region."
Last year Turkish Prime Minister tayyip Erdogan called the Armenian side to establish a joint commission to debate the historical diputes yet the Armenian President Kocharian strongly rejevcted the offer. Mr. Erdogan had invited Armenian President Kocharian to Istanbul in 2004, yet again Mr. Kocharian rejected the invitation.
The air gates are open between two countrie and more than 50.000 Armenia Armenians live and work in Turkey. The population of Turkey Armenians reaches 100.000, mostly in Istanbul city. Turkey closed the territorian borders when Armenian forces occupied 20 percent of Azeri territories. The OSCE named Armenia occupier in Karabakh and other Azeri territories. Many Armenian politicians do not recognise Turkey's national borders. TDN and JTW