Armenian President Robert Kocharyan arrived Wednesday in the Russian resort town of Sochi on the Black Sea for talks with President Vladimir Putin.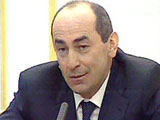 Putin said at the meeting that he and Kocharyan are satisfied with bilateral relations, and that there is "not a single unsolved problem, not a single difficult issue being discussed."
His Armenian counterpart said that last year was fruitful in terms of bilateral relations.
Three large Russian companies in the telecommunications, metals and energy sectors have agreed to double investment in Armenia's economy in the near future, Russia's president said after talks with the Armenian leader.
"Three of our companies alone - VimpelCom, RusAl and Gazprom - are planning and have already made quite large investments, which will at least double to $1.5 billion," Vladimir Putin said.
VimpelCom is Russia's second largest mobile phone operator, RusAl is the country's largest aluminum producer, and energy giant Gazprom, Russia's largest company, supplies natural gas to the South Caucasus nation.
After the presidents' talks, Putin said Russia was the second largest foreign investor in Armenia during 2006. "Russian investment totals about 800 million," he said.
The Russian leader said investment in the Armenian economy was also attractive for other Russian companies, such as the Federal Nuclear Power Agency (Rosatom), Russian Railways, and telecommunications companies.
"We have vast unused reserves, and we will use the current level of political relations and transform them into economic ties," the Russian leader said.
During the discussions at the president's residence in Sochi, Putin and Kocharyan also addressed trade and bilateral agreements between the former Soviet allies.
"On the whole, we are satisfied with the steady growth in trade over the past few years," Putin said. "It increased 40% in 2005, and 70% in the first eleven months of 2006. The final figure for the whole last year may reach about $500 million."
Kocharyan said he hoped Russia would reclaim its leading positions among Armenia's foreign investors by March.
"Trade is on the increase, and Russian investment in the Armenian economy has also grown substantially," Kocharyan said.
The Armenian leader said ambitious energy projects had already been launched, and the sides were considering Russian participation in Armenia's mining industry. RIA Novosti