Speaker of Milli Majlis Ogtay Asadov received the parliamentarian of Israel Knesset Yosef Shagal.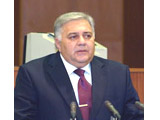 During the meeting the speaker said that Azerbaijan pays special interest to world countries, especially to Israel.
"There are working groups on relations with different countries and also with Israel in MM. The activity of this group have great importance from the point of view of information and experience exchange," he said.
Shagal said that Israel parliament interested in the relations with Azerbaijani legislative structure, MM press service told the APA.