"We want to send a mission to Azerbaijan in the same composition as the one to Georgia," said Peter Semneby, special representative of the EU for South Caucasus.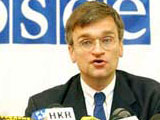 He  told APA that mission sending depends on Azerbaijan's permission to realize anagogical activities.
"If Azerbaijan permits to realize such activities, the mission will also visit the Nagorno Karabakh territory. The mission aims to take additional moves on the formation of confidence climate for the settlement of Nagorno Karabakh conflict," he said.
Semneby noted that his visit to Baku, to be in early February, was delayed for at least a month in connection with much work in Brussels.
EU mission sent to Georgia aimed to carry out some activities in conflict zones in connection with Action Plan sighed within EU neighborhood policy.