Azerbaijani Ambassador to Germany interviewed by the APA.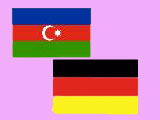 How do you appreciate the activity of the Azerbaijani embassy in Germany in 2006? What can you say about the plans of the embassy?
2006 was very successful from the point of view of expansion of relations in political, economic, cultural and other spheres between Germany and Azerbaijan. Azerbaijani President visited Germany in September last year and participated in International Bertelsmann Forum.
Besides, we can mention Foreign Minister's visit to Germany, political and security consultations of the Deputy Foreign Ministers from the point of view of development of bilateral political dialogue. A number of events were realized last year for the development of economic relations. Among them we can mention Azerbaijani Economic Development Minister's visit to Germany, the visit of the delegation composed of German businessmen to Azerbaijan, Azerbaijan's participation in the International Tourism Exhibition held in Berlin and international exhibition on new technologies held in Hanover etc.
The embassy carried on propaganda for establishing direct relations between Azerbaijani and German companies to strengthen German investments in Azerbaijan.
As to the cultural cooperation, I would like to note that Azerbaijani Culture Ten-day was held in Berlin, Mainz, Stuttgart and Frankfurt am Main in October last year. Azerbaijani art figures gave concert, exhibition of young Azerbaijani artists was held, Azerbaijani books for the first time were demonstrated in famous Frankfurt Book Fair. As a result of negotiations 2008 is declared "Azerbaijani Culture Year" in Germany and various events are planned to be held.
What is the level of the relations between Azerbaijan and Germany, and are you satisfied with it?
The relations between the two countries are improving dynamically. There is exists active political dialogue between the countries, economic and cultural relations are developing. There is a great potential for further development of our relations. Azerbaijan pays great attention to the broadening of relations with Germany, one of the leading states of the European Union and world. Therefore the embassy pays special attention to the recognition of Azerbaijan in Germany, informing the society of the Azerbaijan's truths.
What meetings will be held and what documents are planned to be signed within President Ilham Aliyev's visit to Germany in February? According to the information the president will be accompanied by the delegation representing economic organizations. Is business forum expected within the visit?
As is known, President Ilham Aliyev will visit Germany in February this year. Some official meetings are expected in the frame of his visit. The meeting with German Chancellor Angela Merkel has great importance for us. As we know, Germany will chair EU during the first term of 2007 and G8 within the year. Germany has declared that it will try to activate New Neighbourhood Policy. That is why it is very important for Azerbaijan to cooperate with Germany, because Azerbaijan has aims at integrating to the structures that newly joined to New Neighbourhood Policy and close cooperation with Euro-Atlantic structures. Azerbaijan-Germany business forum is expected to be held in the frame of the visit. Generally, German businessmen are mostly interested in non-oil sector of Azerbaijan. It includes infrastructure, tourism, engineering industry, product industry and some others.
What do Azerbaijanis mostly do in Germany?
Most of Azeris living in Germany are engaged in construction, product industry, tourism, public catering and so on.
Does the embassy keep in touch with Azerbaijani Diaspora and what problems do our people have? Do Azerbaijanis, that introduced themselves as the representatives of other nations but did not achieve their goals, appeal to our embassy and what about their number?
There is great Azerbaijani community in Germany. There are Azerbaijanis that moved from Turkey and Iran a long time ago and also Azerbaijani citizens. The embassy has close relations with Azerbaijanis living in this country and in case that they face any problem; we take necessary measures in this sphere. European Azerbaijanis Congress which acts in Berlin cooperates with the embassy. The embassy implements joint cultural projects with Azerbaijani societies. Recently we held a big ceremony dedicated to World Azerbaijanis solidarity day where over 350 Azerbaijanis and our German friends took part in. Azerbaijani Diaspora organizations are expected to participate in the Azerbaijani culture years to be celebrated in Germany. Department working with the foreigners sometimes appeal to our embassy, and ask to define the citizenship of the people that are supposed to be Azerbaijani citizens. The embassy sends the questionnaire to relevant bodies of Azerbaijani and informs German side about the results. Sometimes Armenian-born people introduce themselves as Azerbaijani for getting permanent asylum. The embassy immediately informs the relevant bodies after getting needed information about the person.