The State Committee on Work with Azerbaijani Living Abroad held an assembly of the working group established for the solution of the problems of Azerbaijanis engaged in trade in Russia.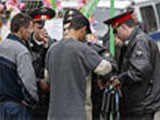 Representative of the committee Shakir Salimov told the APA that giving passports to our compatriots engaged in trade in Russia, distribution of memory booklets, activity of the offices and other issues were discussed at the assembly.
Salimov said that no serious fact concerning our compatriots has been observed up to now.
Executive Director of the Congress of Russian Azerbaijanis Eldar Guliyev told the APA that no serious problem concerning Azerbaijanis has been observed.
He said Russian Minister of Economic Development German Gref stated that the law's coming into force can be postponed until April 1.