Prime Minister of Azerbaijan Artur Rasizade received the delegation led by the first deputy foreign minister of Poland Pavel Koval, January 22.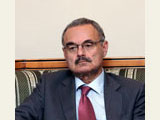 Noting presence of the historical relations between Azerbaijan and Poland, the Prime Minister of Azerbaijan said the mutual visits of the heads of state and established appropriate legislative base have given strong impulse to development of bilateral links between the two countries.
"The efficiency of economic relations should, however, rise, as there is great potential for this," Rasizade emphasized.
"The inter-governmental commission could promote bilateral cooperation in the global energy and transport projects being implemented in region," he stressed.
Touching upon the Armenia-Azerbaijan, Nagorno Karabakh conflict, Artur Rasizade informed on the heavy sequences of aggressive separatism and Armenian's occupant policy.
The Polish diplomat updated the Premier on the meetings and talks he held in Baku to strengthen cooperation between the two countries.
"Poland is going to cooperate with Azerbaijan not only in oil-gas field, but also in economic, political, cultural spheres. We want to activate our business links with Azerbaijan," he underlined.
Pavel Koval said his country stands ready to render any assistance in Azerbaijan's integration to Europe.
In meeting, the parties had comprehensive exchange of views on a number of other questions. AzerTAg