On Monday PACE President Rene van der Linden has held press conference on the commencing of PACE winter session.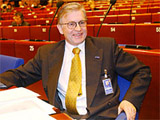 PACE President mainly touched on the issues that are on the agenda of the session and gave information about his recent visits to Russia and Belarus. He also expressed his opinion to death of Armenian Turkish journalist.
PACE President said that he is not pessimistic about non-ratification the 14th protocol of the European Court on Human Rights by Russia and noted that he had met with the chief of the Duma. Rene van der Linden stated that Duma still considers the issue.
"We will try to inspire Russia to ratify the 14th protocol," he said.
He also touched on the problem exisiting between Russia and Belarus and stressed about possibility that the tenseness happened because of Belarus's approach to the European structures.
He wished that Hrant Dink's assassination will not influence the relations of the organization and Turkey.
"It should not influence Turkey EU membership process either," he said.
The PACE president said that Armenian PACE commitments will be discussed in the plenary meeting to be held tomorrow and noted that Karabakh issue will also be in the focus of the meeting.
"We inspire the sides in the negotiations on Karabakh. Of course CE can show its position in the negotiations; simply, we are waiting for the results of the negotiations. As you know, PACE adopted resolution, showing its firm position that Armenia occupied Azerbaijani territories," he said, APA correspondent in Strasbourg reports.