Iran and Azerbaijan on Friday discussed the latest regional and international developments as well as Iran's peaceful nuclear program.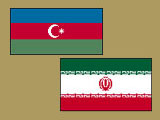 Iran's Ambassador to Azerbaijan Afshar Soleymani met with Azeri Deputy Minister of Foreign Affairs Khalaf Khalafov.
The two sides also conferred on upcoming visits by the Azeri minister of foreign affairs, minister of culture and tourism, health minister and minister of transportation to Iran in the future and visits by Iranian officials to Baku.
Soleymani and Khalafov also explored avenues for promotion of bilateral cooperation in various fields of oil and gas, electricity, road transportation, facilitation of customs and border exchanges and consular affairs.
They hoped the 7th session of Iran-Azerbaijan Joint Economic Commission, scheduled to be held in Baku this year, would prepare ground for further bolstering of mutual relations.
Soleymani praised growing trend of Tehran-Baku ties in various economic fields and stressed the significance of making optimal use of both sides' potentials.
He presented the Azeri official the draft of a memorandum of understanding on providing Iran's aid for Azerbaijan's development.
Khalafov, for his part, stressed expansion of ties between the two countries' parliaments and hoped an upcoming visit by Iranian Majlis Speaker Gholam-Ali Haddad-Adel to Baku would pave the way in this regard.
He expressed his readiness to take part in a meeting of deputy foreign ministers of the Caspian Sea littoral states, to be held in Tehran in future and praised talks held on determination of the sea's legal regime. IRNA