"The map posted by Google in Internet is of no serious importance. The map does not reflects exact coordinates," chairman of the State Land and Cartography Committee Garib Mammadov told journalists.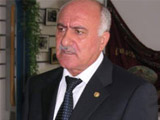 He said that this map is important for tourists and there is nothing to worry about google's service.
"There are 7 stations that take photos from satellite. One of them is in Turkey. The station in Turkey occupies the area from Poland to Kazakhstan. Only this station's information on Azerbaijan can be right," he said, APA reports.