This year Baku will host a number of events of GUAM Organization for Democracy and Economic Development.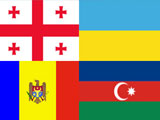 Azerbaijani ambassador to Ukraine Telet Aliyev told APA that GUAM interparliamentary meetings are planned to be held in Baku.
Besides, experts and coordinators of different spheres are expected to meet for rapid implementation of sighed agreements and for improvement of relations between GUAM countries.