"The preliminary variant of President Ilham Aliyev's official visit schedule to Germany is being prepared," said Second Secretary of the Azerbaijani embassy to Germany Nasimi Agayev.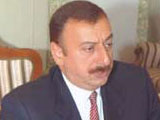 He told the APA that one of the main points of the visit was to meet with Federal Chancellor of Germany Angela Merkel
"Germany has been chairing the European Union since this year. Germany supports active implementation of New Neighborhood Policy program of the EU. Azerbaijan has been participating in this program since last year. Therefore strengthening of these relations is very important for both sides," he said.
Nasimi Agayev said that special attention will be paid to the development of economic relations between the two countries.
German-Azerbaijan economic forum is also expected to be held within the visit. President Ilham Aliyev is expected to participate in the forum.
Azerbaijani delegation composed of the representatives of big companies and enterprises will join the forum.