Deputy foreign minister of Azerbaijan Khalaf Khalafov has met with the delegation led by Dr. Khaled Al-Angari, minister for higher education of the Kingdom of Saudi Arabia.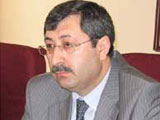 The relations between two countries are high level in all spheres, Khalafov underlined. He stressed necessity of further strengthening of these ties.
Deputy foreign minister said the official visit of the Azerbaijan President to Saudi Arabia in 2005 and mutual visits of the governmental delegations were useful from the point of view of development of bilateral relations.
Saudi Arabia unambiguously supports fair position of Azerbaijan in the Armenia-Azerbaijan, Nagorno Karabakh conflict, Khalafov emphasized and expressed gratitude for support rendered in the frame of UN, Organization of Islamic Conference and other international structures. He thanked to the Saudi Government for assistance to the refugees and IDPs of Azerbaijan.
Khaled Al-Angari recalled the personal friendly ties between the heads of states of both countries, estimating it as a solid ground for further expansion of political, cultural, economic and humanitarian cooperation. He highly assessed the MoU signed between education ministers of two countries in Baku. AzerTAg