"Turkish government has not changed its policy regarding opening the border with Armenia," stated Erkan Ozaran, Deputy Chief of Turkish Mission to Azerbaijan.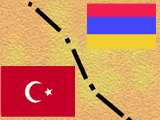 Mr. Ozaran told the APA Turkey closed the border with Armenia after the latter occupied Nagorno Karabakh. So, Turkey cannot possibly open the border with Armenia until it withdraws from the occupied Azerbaijani territories.
"Turkey's position on this matter is clear. So, if someone in Turkey stands for the opening of the borders, it should not be regarded as the government's official position," a diplomat said.