Deputy Minister of Internal Affairs, Commander of Internal Troops Lieutenant-General Zakir Hasanov met September 8 with visiting delegation of the Association of the European and Mediterranean Police Forces and Gendarmeries with Military Status (FIEP).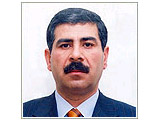 Speaking at a joint press briefing after the meeting, Zakir Hasanov said that in 2003 Azerbaijan's Internal Affairs Ministry made a request to FIEP for admission.
He noted the Association decided to send a group of specialists to Azerbaijan to familiarize with the activity of the Internal Troops.
Giovanni Cataldo, head of delegation, chief of Criminalistics Department of the Italian Carabinieri Corps, said the main goal of the visit is to lay foundation for cooperation between Azerbaijan's Internal Affairs Ministry and FIEP.
After the guests got acquainted with a military unit in Khatai district of Baku, they said conditions created here meet all the modern standards.
/AzerTAg/