The issues on arsons committed by Armenians on the occupied Azerbaijani lands will be discussed at the meeting of the OSCE Permanent Council's meeting scheduled for September 14.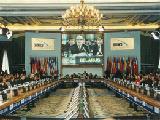 OSCE headquarters press secretary Martin Nesirski told the APA ambassador Andrzej Kasprzyk will also attend the discussion in Vienna.
The arson issue was to be discussed at the Permanent Council's meeting on 6 September. But, it was postponed due to some reasons.
OSCE Permanent Council meets in the Austrian capital, Vienna, every week.