The agenda of the autumn session of the Council of Europe Parliamentary Assembly (PACE) scheduled for October 2-6 has been announced.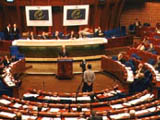 PACE Secretariat told the APA's Europe bureau that the agenda does not contain any issue on Azerbaijan.
On 2 October-the first day of the session, reports on the parliamentary elections in Macedonia, Mexico and Montenegro will be discussed, Russian Parliament President Boris Grizlov will address. On the second day, the discussions will focus on the situations in the Balkan States and Kosovo.
Chairman of the Council of Europe Committee of Minister, Russian Foreign Minister Sergei Lavrov will appeal to PACE on October 4.
On October 5, ethnic cleansing, increasing number of migrants due to the situation in Lebanon will be discussed. "Europe's interests in economic development in Russia" will be debated on October 6.