GUAM (Georgia, Ukraine, Azerbaijan and Moldova) meeting for establishing peacekeeping forces of the alliance will be held in Azerbaijan.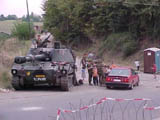 The issue is being discussed at the level of deputy chief of General Staffs of the member states, Ivan Androsenko, Ukrainian Defense Ministry International Military Cooperation Department chief told the APA exclusively.
"Measures are being implemented in establishing joint peacekeepers of GUAM member countries after the Tbilisi meeting at the level of deputy chief of General Staffs. Prior to that meeting, we had met in Kyiv in June. The deputies chief of General Staffs are working out the scheme of establishing peacekeeping contingent," Mr.Androsenko, said.
He said they are considering the UN and OSCE proposals on the matter, and the results will be sent to them. Now the yare discussing issues on management and structure of the peacekeepers.
"The peacekeeping forces will operate under the auspices of the UN and OSCE," he said.
Androsenko also said GUAM peacekeepers might be dislocated in Nagorno Karabakh only after the UN and OSCE decisions.
He also said there is a high level bilateral military cooperation between Azerbaijan and Ukraine. Defense Ministers of the two countries had a fruitful meeting in Baku May this year.
"This meeting gave impetus to the development of military and military political spheres between out countries. It opened a new door for military-political dialogue," he said.
He also added that two countries are discussing the cooperation on personnel training and other issues.