The co-chairs of the OSCE Minsk Group will meet with Azerbaijan and Armenian foreign ministers separately.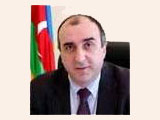 The meeting with Armenian minister Vardan Oskanian will take place in Paris on 12 September and Azerbaijani minister with Elmar Mammadyarov in London on 13 September, APA reports.
Minister Mammadyarov told journalists the positions need to be specified at the meeting with the co-chairs. He said it is interesting what proposals the co-chairs will offer.
The minister also said it is important to agree on the meeting of the Presidents (Azerbaijani and Armenian) this year. "It is premature to talks about this," he said.