Victor Yushchenko has met with Oktay Asadov, Azerbaijan's parliamentary speaker, and members of parliament representing the group "Ukraine-Azerbaijan."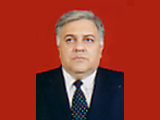 Foreign Minister Borys Tarasyuk, First Deputy Premier Andriy Klyuev, MPs Anatoly Kinakh, Eduard Zeynalov and Petro Yushchenko attended the meeting.
They discussed relations between parliaments of the two countries, claiming this partnership should be enhanced and strengthened, the president press office reports.
They also considered ways to forge closer humanitarian ties between Ukraine and Azerbaijan. President Yushchenko said he was happy the Ukrainian community in Azerbaijan and the Azeri diaspora in Ukraine could develop their culture without restraint and were not involved in any interethnic conflicts.
The President then urged Azeri parliamentarians to recognize last century's famines in Ukraine as a genocide.
/www.for-ua.com/