GUAM (Georgia, Ukraine, Azerbaijan, Moldova) has asked the UN to put the of issue so-called 'frozen conflicts' on the agenda of the General Assembly's 61st session.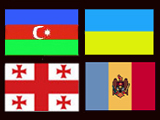 The fifteen year old frozen conflicts in Moldova, Georgia and Azerbaijan affect the lives of more than 16 million people, and pose a danger to the territorial integrity and sovereignty of these three UN member states, but also to international peace and security, the GUAM member states argue in a letter to the Secretary General. GUAM thinks that international mediation has not brought any results in terms of conflict resolution, which is why GUAM member states demand to discuss the issue as a priority at the 61st session of the UN General Assembly.
This is not the first time GUAM members have made such an appeal, last year they tried to put the issue in the agenda of the 60th session of the UN General Assembly, but it did not receive wide enough support in the General Committee, according to Russian news agency Regnum.
The General Committee presents recommendations about the items to be discussed to the General Assembly. Last year, of the 28 members of the committee only Azerbaijan, Great Britain and the USA supported putting the frozen conflicts on the agenda. Five members of the committee, Russia, Armenia, Angola, Myanmar and Venezuela voted against the issue, and the remaining countries abstained.

/www.messenger.com.ge/