The preparation work for the 5th conference of the Islamic Conference of Tourism Ministers scheduled for September 9-12 in Baku ended.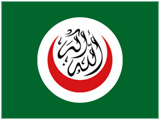 High ranking officials from 57 states will take part in the conference. The participants are arriving in Baku from Wednesday, Culture and Tourism Ministry told the APA.
OIC Secretary General Ekmeleddin Ihsanoghlu will arrive in Baku on September 10. The results of the March, 2005 4th conference will be discussed at the meeting. Baku Declaration will be adopted in the end of the meeting. The venue of the 6th conference will be specified too.