Iranian President Mahmoud Ahmadinejad urged the West to turn to God's path and said on Wednesday that failure to do so would tempt fate.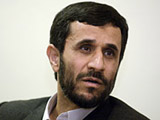 Iran is embroiled in a nuclear stand-off with the West, which accuses Tehran of seeking to build atomic bombs, a charge Tehran dismisses. Ahmadinejad says Western powers use such accusations as a ploy to hold back Iran's development.
"Those who do not respond to the invitation (to follow God's will), as we said, will have no good fate," said Ahmadinejad, who is a devout Shi'ite Muslim and only the second non-cleric to be president of the Islamic Republic.
Ahmadinejad -- whose speeches are often peppered with religious and anti-Western remarks -- rebuffed accusations that Iranian policy constitutes a threat to the United States and again challenged President Bush to a live television debate.
"We requested a face-to-face debate (with Bush) to assess the problems of the world ... We will let humanity choose between us," Ahmadinejad told a meeting on the 12th Muslim Shi'ite imam, who disappeared in the 10th century AD but who Shi'ites believe will return to implement Islamic justice.
Washington has said the call for a debate is a diversion.
But Ahmadinejad's office said in a statement that he told his cabinet he was ready to debate in the U.N. General Assembly and that Bush could bring his advisers if he wished.
A presidential official told Reuters that Ahmadinejad's remarks were partly a rebuttle to a Bush speech on Tuesday in which the U.S. president said Shi'ite "extremists" were subjecting Iran to "a regime of tyranny", backed terrorists, sought atomic bombs and threatened the United States.
/Reuters/