The Council of Europe Parliamentary Assembly (PACE) is forming a fact-finding mission of professional international experts to monitor the cultural heritage in the Armenian-occupied Azerbaijani lands.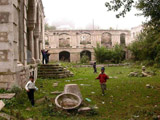 PACE wanted the list of the monuments to be monitored from Azerbaijan and Armenia.
As APA informs, Azerbaijan will present the list to PACE by the end of this week. This list will contain the photos and detailed information on 574 monuments in all of the occupied Azerbaijani territories.
Council of Europe Secretary General Terry Davis offered Azerbaijani and Armenian Foreign Ministers to send a fact-finding mission to monitor architectural heritage.
Azerbaijani Foreign Minister Elmar Mammadyarov immediately gave a positive reply to the Secretary General's letter. Armenia has not yet replied.