Secretary General of Egypt's Fund for Technical Cooperation with the CIS, Ambassador Vahid Jalal will visit Azerbaijan on September 10, Egyptian embassy in Azerbaijan told.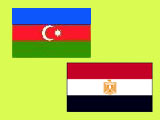 The aim is to develop training program between the two countries, APA reports.

The Fund operating at the Egyptian Foreign Ministry holds regular two-week trainings for Azerbaijan's different bodies (Foreign Ministry, Interior Ministry, Justice Ministry and State Customs Office) in Egypt.
High ranking officials will receive Vahid Jalal during his visit in Azerbaijan.