The Turkish parliament is expected to decide today whether to contribute Turkish troops to the strengthened UN force for southern Lebanon.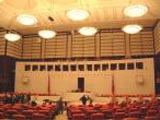 The vote comes as the world body hopes to see Muslim countries contribute up to half the force's soldiers, but so far few have made commitments. Turkish Foreign Minister Abdullah Gul has said any deployment would likely not number more than 1,000 soldiers.
A Turkish deployment is backed by Prime Minister Recep Tayyip Erdogan and other senior officials, who say Turkey has an obligation to contribute to regional stability. Ankara has friendly ties with Israel as well as with Beirut.
But the idea is rejected by opposition lawmakers and some members of the ruling Justice and Development Party who are said to be wary over the risks Turkish troops could face.
Today's Turkish parliamentary debate comes as only a handful of Muslim countries so far have said they are ready to send troops for the strengthened UN Interim Force in Lebanon (UNIFIL).
One is the Persian Gulf state of Qatar. Foreign Minister Sheikh Hamad al-Thani announced the emirate's participation at a news conference with UN Secretary-General Kofi Annan in Doha on September 4.
"The government of Qatar has decided to contribute to the UNIFIL forces by sending 200 to 300 troops," al-Thani said. "It is therefore clear that we would like to tell the world that there will be an Arab presence, albeit a small one."
Qatar is the only Arab country to have joined the force. It is often considered something of a maverick in the Arab world because it has low-level trade ties with Israel.
Other Arab countries appear to be staying away over worries they would appear to be cooperating with Israel in the UN-brokered peace that ended 34 days of Israel-Hizballah fighting on August 14.
Indonesia, home to the world's largest Muslim population, said on September 1 that it is preparing to send 1,000 troops to Lebanon.
Indonesian Defense Minister Juwono Sudarsono said the decision came after Israel dropped earlier objections to deployments of troops from countries that do not recognize it as a state. Israel has not commented on that report.
Meanwhile, the Azerbaijani Foreign Ministry says Baku is also prepared to contribute troops to UNIFIL, but Azerbaijan's parliament has yet to formally approve a deployment.
Azerbaijan has some 200 peacekeepers already serving in Kosovo, Afghanistan, and Iraq. It is not yet clear how many troops they are prepared to contribute to the Lebanon peacekeeping force.
Other Muslim countries that have expressed interest are Malaysia, which has also offered up to 1,000 soldiers, and Bangladesh.
So far, almost all the troops committed to the strengthened UN force in Lebanon have come from European countries.
The largest deployment is from Italy, which began landing troops in the region on September 2 and 3. In all, Italy plans to send 3,000 troops, France 2,000, and Spain more than 1,000. Poland and Belgium have also pledged to take part.
The UN has welcomed these commitments, which will bring the force up to about half its planned size of 15,000 soldiers.
But the world body wants the other half to come from Muslim countries, saying that will help stabilize Lebanon, a predominantly Muslim country. RFE/RL