Central Election Commission in connection with preparation for municipal elections has conducted in Beylagan district constituency number 81 training for members of district and local election commissions.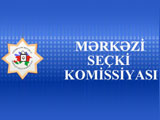 It was marked, that to conduct democratic, free, transparent and fair elections, the greater responsibility have the local election commissions, and the important questions here are trainings and increase of the level of their members.
At seminar, lead by employees of training group of Central Election Commission Rashid Yusifbeyli and Ramin Nuraliyev, the participants were presented comprehensive information on the organization in day of voting of work on sites, carrying out of voting, rules of drawing up of final reports and other important questions, also have been widely used visual aids.
On training for carrying out of democratic elections, the district and the local election commissions were given corresponding instructions.
/AzerTAg/