Armenian armed forces have been torching several occupied villages of Azerbaijan's region Aghdam in Garabagh for ten days.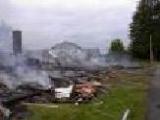 APA's provincial bureau reports that Yusifjanli, Novruzlu, Baghbanli, Seybali, Sarijali and Bash Garvand villages have been reduced to ashes. Aghdam and new settlements in Shikhbabali, Marzili, Khidirli, Goytapa villages are in blaze now.
The Armenian armed forces are taking all things from the houses in lowland villages before the people living near the front line leave there, and new settlements are constructed in foothills.
The newly established 150-house settlement constructed by Armenians in Gulabi village of Aghdam can be observed from the villages near the front line.
The local residents say they heard explosions at nights and carrying of building materials by armored equipment last month.