GUAM, a regional organization of four former Soviet republics, should focus on cooperation with the European Union and NATO, Ukrainian President Viktor Yushchenko said Tuesday.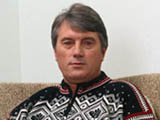 The alliance, which comprises Georgia, Ukraine, Azerbaijan, and Moldova, is seen by some as an attempt to counterbalance Russian influence in the Commonwealth of Independent States, the loose alliance of nations that replaced most of the Soviet Union.
According to RIA Novosti, Yushchenko, speaking at the end of a GUAM summit in Kiev, said: "It is hard to overvalue cooperation between our countries in the field of security given the current conditions, with the threats of terrorism, aggressive separatism, and organized crime. Under these conditions, GUAM must focus on cooperation with the EU and NATO."
During the summit, GUAM leaders adopted a charter changing the group's status and renaming it the GUAM Organization for Democracy and Economic Development.
Yushchenko said earlier that the new charter set the objectives of cooperation, such as promoting democratic values, ensuring stable development, enhancing international and regional security and stepping up European integration.
He said the Council would be GUAM's main body, which would make decisions "democratically on a consensus basis."
The organization's secretariat will be based in Kiev, and Yushchenko said GUAM was open to new members and partners.
The leaders also signed new regulations and a declaration on conflict resolution at the summit.