Speaker of Milli Majlis of the Azerbaijan Republic (Azerbaijan Parliament) met with the State Secretary of Vatican for Relations with States archbishop Giovanni Lajolo, 22 May.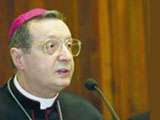 Speaker of Azerbaijan said Vatican is one of the first states, which have recognized independence of Azerbaijan. "We are interested in development of communications with this European country. Azerbaijan by the geopolitical position historically was a place of coexistence of religions, cultures. Here always dominated tolerance, respect to representatives of various religions.

The first Catholic communities in Azerbaijan have appeared in the middle of XIX century. And in beginning of 20th century in Baku has been constructed the first Catholic Church. The Catholics have all rights and freedoms, given to citizens of Azerbaijan by the Constitution. The negotiations lead by the national leader of our people Heydar Aliyev and President Ilham Aliyev during meetings with heads of the State of Vatican, have created favorable circumstances for development of our communications. We very highly estimate mutual visits from the point of view of expansion of our relations," the Speaker stressed.
Chairman of Milli Majlis has informed, that during visit of the Pope of Rome John Paul II to Azerbaijan in May 2002 has been consecrated a stone to be in the base of the Baku Catholic temple, also held a number of meetings with figures of religion, science and culture. And official visit of the President of Azerbaijan Ilham Aliyev to Vatican in February 2005 has given a new impulse to development of cooperation between two countries.
Then, Ogtay Asadov has in detail told about the Armenia-Azerbaijan, Nagorno-Karabakh conflict, has stopped on the decisions accepted by the authoritative international organizations and the resolutions connected with the given problem, disclosed fair position of Azerbaijan which is based on international law. The State of Vatican always condemned all forms of terror, he noted.
Chairman of Milli Majlis has expressed confidence that the State of Vatican will condemn the Armenian terror and take a fair position in settlement of the Nagorno Karabakh conflict.
Giovanni Lajolo has expressed gratitude for warm reception and detailed information. "We are satisfied with the level of friendly communications between Azerbaijan and Vatican," he underlined. "Azerbaijan really is a place of merge of religions and cultures. We highly estimate tolerance existing here. And we are very glad with intensive development of Azerbaijan. Vatican is interested in expansion of relations with Azerbaijan, and the purpose of my visit to Baku consists in carrying out of exchange by opinions on the further development of our ties."
At the meeting, also took place wide exchange of opinions on other questions representing mutual interest, AzerTAg reports.