On April 28 Council of Europe (CE) Venice Commission will hold a round table in Baku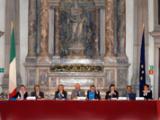 Round table's subject is "Cooperation perspectives in the field of 6 November 2005 parliamentary election results and election legislation and practice", Council of Europe Information Office in Azerbaijan has informed APA.
In the measure, 6 November parliamentary elections experience, Venice Commission and OSCE /ODIHR recommendation with regard to Azerbaijan Republic Election Code and steps taken in the direction of developing election experience in Azerbaijan (organization of election campaigns, preparation of voters' lists, complaints entering Courts with regard to elections) will be discussed.
President's Office representatives, Milli Majlis delegation to PACE, political party representatives represented in the parliament, CEC, Foreign Ministry of Azerbaijan, Constitutional Court, General Prosecutor's associates will take part in the round table.
Parliament members, VC representatives, CE secretariat associates will join the discussions from Council of Europe. IFES representatives will also participate at the measure.