Armenia President Robert Kocharian stated April 25 that he did not see any relations between the intensification of the process of Nagorno Karabakh conflict resolution and the situation around Iran.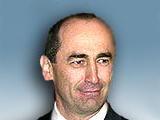 The Armenian President said it's joint briefing with the Lithuanian President Valdas Adamkus, who arrived in Yerevan April 25.
Kocharian stated that he felt no pressure by the United States in the process of resolution. The Armenian President underlined that the American, Russian and French co-chairs of the OSCE Minsk Group came out of the unified position and coordinated their activities, Trend reports.