Next session of Centract Election Commission (CEC) took place April 25.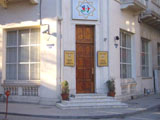 Trend reports on the session the members of commission have changed the staff of district election commission for Geychay election district ? 88 and examined the addresses to CEC.

Then CE secretary Natik Mamedov and members of commission spoke of addresses arrived. The commission examined complaints from Surakhan election district #31, Second Sumgayit district #42, Sumgayit-Absheron district #44, Kedabek district #103 and Zagatala district #110, Trend reports.