The US will finally give the recognition sought by President Ilham Aliyev of Azerbaijan this week by granting his first formal visit to the White House since he succeeded his father in 2003.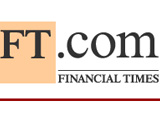 Sandwiched between Russia and Iran, Azerbaijan's geopolitical status as a western-friendly, Muslim-majority country sitting on oil and gas riches makes it too important to shun despite the risk of charges of double standards in how the US deals with autocrats.
Mr Aliyev has troops alongside US forces in Iraq – where it was a founding member of the "coalition of the willing" – as well as in Afghanistan and Kosovo.
"The Bush administration has given Aliyev the cold shoulder for two years, but then realpolitik sets in," commented Zeyno Baran, director of Eurasian Policy Center at the Hudson Institute in Washington.
Security co-operation, security of gas supplies for Europe and reforms in Azerbaijan will top the agenda in Mr Aliyev's meeting with President George W. Bush on Friday.
He will also meet Vice-President Dick Cheney and Donald Rumsfeld, defence secretary.
Glen Howard, head of the Jamestown Foundation think-tank, says Azerbaijan's strategic importance is increasing. The US loss of the major K2 airbase in Uzbekistan last July boosted Azerbaijan's role as an air transit route for supplying Afghanistan, he said.
Mr Cheney is to visit Kazakhstan next month despite its own faltering political reform programme, reflecting a more assertive US policy in central Asia to counter Russian influence there, Mr Howard said.
Two senior US officials, speaking to the FT, defended the decision to invite Mr Aliyev despite Azerbaijan's flawed elections and crackdowns on the opposition. They dismissed comparisons with President Alexander Lukashenko who got a US and European travel ban slapped on him for his rigged elections in Belarus this month.
"It's not all bad – not an Uzbekistan or Belarus," commented one official. Reforms had not progressed as hoped for in Azerbaijan but they were moving in the right direction, he said, describing the country as "on the cusp . . . . suspended between authoritarianism and liberalism". Mr Bush would use the opportunity to "pull him along" in the right direction, he added.
The US criticised Azerbaijan's presidential elections in 2003 and parliamentary polls last year as seriously flawed. Some in the administration had advocated inviting Mr Aliyev only after parliamentary re-elections next month, but an earlier offer prevailed.
But the strong relationship cemented by Mr Aliyev's father, Heydar, who turned his Soviet-era politburo powers into those of an independent autocrat, has endured.
Aliyev senior was a guest of the White House in both the Clinton and Bush administrations. He died in a US hospital in 2003.
The Baku-Ceyhan oil pipeline, which bypasses both Russia and Iran from the Caspian to the Mediterranean and is due to come on stream soon, is testimony to the importance of Azerbaijan. "There is rising national resource nationalism in Russia, and the situation in the Middle East is dangerous. That makes the Caspian basin oil reserves continuously more important," said Scott Horton, a lawyer at Patterson Belknap who specialises in Central Asia and the Caucasus.
"That leaves the US to be more forgiving about democracy and rule of law related issues."
The US wants to maximize diversification for European gas markets and sees Azerbaijan as a supplier in the short term, the senior US officials told the FT. One US-backed plan is the Nabucco project, a private European consortium that aims to bring gas from Azerbaijan and Central Asia into central and eastern Europe.
While Russia should not be excluded from future energy projects, they said, Iran remained on the US blacklist because of its alleged nuclear weapons programme and its support for militant Islamists.
"An Azeri leader going to the US and being photographed with President Bush is a big deal in Azerbaijan. It can be presented as another demonstration of coming of age for Ilham. It is sending a message of being the powerful, important, replacement of the great father," Mr Horton commented.
However, Azerbaijan is increasingly anxious about the possibility of US military action against Iran, analysts say.