Tehran's nuclear program buttresses all-out bid for regional Supremacy - The Jewish Institute for National Security Affairs.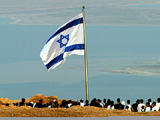 While the international community focuses on Iran's nuclear ambitions, officials of the Islamic Republic have been busy exercising their rapidly increasing influence - fueled by more than a decade of a lucrative petroleum sales and accelerated by the removal of Iraq as a regional counterweight - in the Persian Gulf and on the international stage. Complicating matters is Iran's control of the terrorist group Hezbollah in Lebanon and increasing sway over the now ruling terrorist Hamas organization in the West Bank and Gaza. The ability to frustrate Israeli-Palestinian peace making coupled with increasing its political, economic and military influence, means that Iran is well on its way toward dominating the wider region.
Against the backdrop of growing vocal opposition to Tehran's nuclear ambitions from members of the Gulf Cooperation Council (GCC), Iranian officials have been pressing fellow Gulf Arab states to support Iran's nuclear program via a series of diplomatic communiques and visits. According to the online analysis firm GeoStrategy-Direct, March 1, 2006 in the last month, Iranian President Mahmoud Ahmadinejad has dispatched messages to all six members of the GCC - Bahrain, Kuwait, Oman, Qatar, Saudi Arabia, and the UAE - urging support for Iran's nuclear program.
During a visit to Kuwait in February, Ahmadinejad lambasted the U.S. presence in Iraq and sought improved relations with Kuwait. Ahmadinejad's visit, the first one of a high-ranking Iranian in 25 years, was also aimed at allaying concerns about Iran's nuclear-fuel enrichment program and to improve defense cooperation. On March 14, Kuwait hosted the annual two-day Iranian-Kuwaiti security conference, which began in 2003. Since then, Iran and Kuwait have signed a number of agreements increasing security and military cooperation between the two states.
Bahrain's Ambassador to Tehran, Kamel Saleh al-Saleh, met with Iranian officials in early March to promote a number of initiatives designed to promote bilateral ties, cooperation, and economic integration and during a visit to Qatar in February, Iranian parliamentarian Hussein Sheik Al Islam said, "I am calling upon GCC states to support Iran's uranium enrichment plan," according to the GeoStrategy-Direct report. The letters from President Ahmadinejad are said to have promised that Iran was not developing nuclear weapons and offered help to establish nuclear power facilities throughout the GCC in an effort to preserve the region's natural oil and gas reserves.
Despite Tehran's statements to the contrary, the thought of nuclear weapons in Iranian hands may be reigniting formerly nascent nuclear programs in other Gulf nations. Qatar, has initiated "an active exploratory effort for foreign nuclear contacts in recent months," including consultations with South Korea regarding the prospects of nuclear energy cooperation, according to a February 2, 2006 Eurasia Security Watch report - a publication of the American Foreign Policy Council, Washington, D.C. Perhaps more troubling is the specter of a nuclear-armed Saudi Arabia a prospect that has long been suspected by the international community and was recently revisited when the Washington Times, October 22, 2003, published an article claiming a secret agreement between Pakistan and Riyadh regarding nuclear cooperation had been reached in 2003.
Although "it will be vehemently denied by both countries," according to an anonymous source cited by the October 22 article, "future events will confirm that Pakistan has agreed to provide [Saudi Arabia] with the wherewithal for a nuclear deterrent." As predicted by the Pakistani source, officials from both Saudi Arabia and Islamabad dismissed the claims. The Saudi purchase of Chinese-made intermediate-range CSS-2 ballistic missiles capable of carrying nuclear payloads in the 1980s, coupled with the prospects of a nuclear Iran and the recent deterioration of U.S.-Saudi security ties after 9/11, however, may be motivating the House of Saud to seek alternative security arrangements, according to Richard L. Russell, a research associate at Georgetown University's Institute for the Study of Diplomacy. Saudi Arabia's foreign minister, Prince Saud al-Faisal, warned that Iran's nuclear program "threatened disaster" for the Gulf. At the same time, Jordan's foreign minister expressed concerns that Iran was exacerbating the likelihood for a new arms race in the region. Iranian officials met with Saudi Foreign Minister Saud al-Faisal in February to discuss regional issues, according to The Washington Post, March 20, 2005.
A nuclear capable Iran "totally turns over the balance of power and makes Iran the master of the region and the influential instrument in its decisions," Abdullah Bishara of the Center for Strategic Studies in Kuwait, said, according to Eurasia Security Watch, April 12, 2006.
During an April 9 seminar in Doha, Qatar, Kuwaiti researcher Abdullah al-Nufaisi said that the Saudi government was preparing a nuclear program in light of Iran's program, according to the United Press International. "Saudi Arabia will not watch as its neighbors develop nuclear weapons," an anonymous Gulf source told UPI. "It's a matter of time until a Saudi nuclear program begins."
In other regional moves, Iranian officials met in early March with their Pakistani and Indian counterparts to discuss the construction of a natural gas pipeline from Iran to India that would cross Pakistan. The pipeline would provide for India's growing energy needs and produce hundreds of millions of dollars worth of transit fees for cash-starved Pakistan but is strongly opposed by the United States.
A similar deal was struck in March when Iranian and Syrian diplomats concluded a memorandum of understanding for the construction of pipelines between Damascus and Tehran crossing Iraq. Iran and Syria have also agreed to cooperate on a number of additional issues including Iranian support for the flagging Syrian economy and the country's ballistic missile development. Through close economic cooperation, Syria and Iran would be better positioned to buck any international sanctions.
In anticipation of United Nations Security Council sanctions over its nuclear program, Iran has vowed to become Damascus' leading investor and business partner. "There are huge untapped economic potentials in the two countries which should be further explored," Iranian Housing Minister Mohammad Saeedi-Kia told reporters at the Iranian-Syrian Joint Economic Commission conference held this February in Damascus. Tehran's interests in Syria solidified during the Iran-Iraq war of the 1980s. Iranian Ambassador to Syria, Mohammad Hassan Akhtari, told Syria's official news agency SANA, that Tehran had increased exports in the last five years in a number of non-oil related areas, including steel, textiles, automobiles, and technical and engineering expertise. Western intelligence officials have said ballistic missile technology is among Tehran's chief exports to Syria as well.
In February 2005, Tehran proclaimed its intention to defend Damascus against "challenges and threats" amidst an atmosphere of international condemnation after former Lebanese Prime Minister Rafik al-Hariri, an outspoken critic of Syria's domination of Lebanon, was assassinated in a massive car bombing. "We are ready to help Syria on all grounds to confront threats," Iranian Vice-President Mohammad Reza Aref said during a meeting with Syrian Prime Minister Naji al-Otari. "Our Syrian brothers are facing specific threats and we hope they can benefit from our experience. We are ready to give them any help necessary ... especially because Syria and Iran face several challenges and it is necessary to build a common front," he concluded.
More recently, Iranian officials promised to "use any means" to inflict "harm and pain" upon the United States in order to "resist any pressure and threat" to Tehran's nuclear ambitions, according to an editorial in the New York Post by Peter Brookes, a senior fellow at the Heritage Foundation in Washington D.C. Iran and Syria concluded a mutual defense pact in 2004, further solidifying their ability to weather international pressure and logistically and politically complicate any impending military strikes.
The March 2, 2006 edition of the Iranian Democracy Monitor, another publication of the American Foreign Policy Council, noted that Iran has been massing ballistic missiles along its border with Azerbaijan in an attempt to persuade that country to reject possible U.S. entreaties for basing rights for U.S. forces to strike Iran's nuclear sites. Russian Defense Minister Sergei Ivanov recently announced, however, that the five Caspian littoral countries Russia, Iran, Azerbaijan, Kazakhstan, and Turkmenistan ? were exploring the formation of a 'Caspian Security Pact', according to the January 25, 2006 Russian Reform Monitor yet another product of the prolific think tank, the American Foreign Policy Council. Ivanov told reporters military cooperation among the five nations was needed to fight the proliferation of weapons of mass destruction, prevent poaching, and guarantee the security of energy resources' deliveries.
Following the electoral victory of the Hamas terrorist organization in the Palestinian elections in January, the international community has placed increasing pressure upon the organization's leadership to recognize Israel's right to exist, honor existing treaties signed by the previous Palestinian Authority government, and renounce violence as a means of achieving political ambitions. Moscow broke ranks with the international community, however, and provided a degree of political legitimacy to Hamas when the organization's political chief, Khaled Mashaal, was invited to meet with Russian officials in March. Mashaal used the high profile meeting, however, to reiterate Hamas's absolute refusal to recognize the state of Israel.
Mashaal was also invited to visit Ankara where he met with leaders from Turkey's ruling Justice and Development Party (AKP). And, during a brief visit to the Sudanese capital of Khartoum in mid-February, Mashaal stated, "there will be no recognition of Israel, and there will be no security for the occupation and colonization forces." "Resistance will remain our strategic option ? by God, Israel will not feel safe and will have no legitimacy," Mashaal shouted to a rallying crowd, according to the Associated Press, February 14, 2006.
As U.S. and European leaders consider suspending annual aid package payments to the Hamas-led Palestinian Authority in an attempt to gain political leverage over the Hamas organization, Tehran has already pledged to compensate any deficit created by a shutoff of funds from the West. Such a move would give Iran increasing sway over Israeli-Palestinian peace negotiations. "Iran's role in the future of Palestine should continue to increase," Mashaal told reporters in Tehran following diplomatic discussions with Iranian Foreign Minister Manoucher Mottaki.
In February, State Department Spokesman Adam Ereli warned that if Hamas accepted any financial aid from Iran, it "would send a pretty clear signal," that Hamas "wants to put its feet in the camp of terror," and "take $250 million from the world's leading sponsor of terrorism." Ereli added that if Hamas refused to renounce violence and recognize Israel, the United States would find a way "to fund the humanitarian needs of the Palestinian people without giving money to Hamas," despite the fact that Hamas was elected by a popular vote.
While the United States and the European Union struggle to chart a diplomatic course with the newly elected Hamas organization, Iran and Syria have already begun coordinating a strategy designed to link Syrian-and Iranian-backed terrorist organizations with Hamas to attack Israel or the United States should either country strike at Iran or Syria, according to GeoStrategy-Direct, March 22, 2006. During a meeting held last January in Damascus, Iranian and Syrian intelligence agents gathered the leaders of Hamas, Hezbollah, and Islamic Jihad to coordinate all political and military steps with Damascus and Tehran. "The idea was to make sure each group had its marching orders and would follow one agenda," according to a U.S. intelligence source who spoke with GeoStrategy-Direct on condition of anonymity.
According to the Middle East News Line, March 3, 2006, Iran has deployed members of the elite Islamic Revolutionary Guard Corps (IRGC) to assist anti-coalition forces and assist Shi'ite militias amid increasing sectarian violence in Iraq. "They are currently putting people into Iraq to do things that are harmful to the future of Iraq, and we know it, and it is something that they will look back on as having been an error in judgment," Defense Secretary Don Rumsfeld told reporters during a press briefing at the Pentagon, March 7, 2006.
President Bush added from the White House in March that, "if the Iranians are trying to influence the outcome of the political process [in Iraq], or the outcome of the security situation there, we're letting them know our displeasure." President Bush went on to say, "our call is for those in the neighborhood to allow Iraq to develop a democracy. And that includes our call to Iran, as well as to Syria."
While both Iran and the United States have agreed to hold diplomatic meetings regarding the future of Iraq, Iran continues its full-court press against mounting pressure from Washington and the threat of sanctions imposed by the United Nations Security Council over Tehran's nuclear dossier. "If any country intends to attack Iran, it should expect a fatal reply by the Iranian armed forces," Iranian Defense Minister Mustafa Najar said, according to Middle East News Line, March 13, 2006. Western intelligence note a recent exercise conducted by Iranian military forces in the Indian Ocean and Sea of Oman that was designed to attack Western shipping and Arab oil facilities in the Gulf.
In December 2005, Tehran conducted a massive military exercise that combined Iranian air and sea forces in a simulated attack on American warships in the Persian Gulf bringing to a halt all oil shipments and included ballistic missile strikes on Israel and Western-aligned Gulf Cooperation Council states, unnamed diplomatic sources told GeoStrategy Direct, February 8, 2006. Following the maneuvers, Iranian Defense Minister Mohammed Najar warned Israel that any ambitions to launch an Osirak-like military strike would trigger a response that "will be so firm that it will send them into eternal coma, like [Israeli Prime Minister Ariel] Sharon."
U.S. Defense Intelligence Agency Director Lt. Gen. Michael Maples, USA, testified before the Senate Armed Services Committee on February 28, that Iran's continued acquisition of ballistic missile technology, air defense systems, and anti ship missiles will "significantly enhance Iran's defensive capabilities and ability to deny access to the Persian Gulf through the Straits of Hormuz."
In a March 9 interview with the official Iranian news agency IRNA, Defense Minister Najaf warned, "the Iranian armed forces are in full combat readiness and are to defend the country's territorial integrity with full power? if any country intends to attack Iran, it should expect a fatal reply by the Iranian armed forces." That threat was renewed on April 14 when the head of Iran's Revolutionary Guard, General Yayha Rahim Safavi, declared that that American troops in neighboring Iraq and throughout the Gulf were 'vulnerable' to Iranian attacks if the U.S. decided to strike. "You can start a war but it won't be you who finishes it," the General threatened.
Coupled with a blitz of diplomatic visits designed to build regional support and garner economic, political, and military cooperation, Iran has thus far been able to fend off the threat of international isolation for its continued enrichment program. Moreover, a number of lucrative contracts involving nuclear cooperation, military modernization, and the supply of energy resources with Russia and China, have enabled Tehran to guarantee a divided United National Security Council.
Despite Iran's continued and flagrant violations of IAEA protocols and alarming provocations from Iranian President Ahmadinejad in public rhetoric, the international community continues to be divided on how to respond. At the same time, while diplomatic efforts remain divided, military options aimed at resolving Iran's nuclear program, according to anonymous defense officials, may not be a viable option.
According to The Washington Post, April 9, 2006, Defense Department officials, the Bush administration, and members of the intelligence community are considering two different strike packages for Iran should diplomatic efforts fail. One would be confined to a limited, surgical campaign designed to attack Iran's numerous nuclear facilities while a second option would also target key political facilities, in an effort to collapse the Iranian government. But experts are warning that an effective air strike on Iran's nuclear infrastructure would be difficult to achieve as Iran has taken aggressive measures to protect it from such a scenario.
Some of the leading challenges include how to attack Iran's nuclear research program conducted at civilian university labs without causing extensive collateral damage. Iran has also taken steps to spread out its nuclear facilities throughout the country, bury much of it underground, and make strong efforts to reinforce and harden those facilities against potential air strikes. Some targeting experts have estimated the underground facilities to be protected by at least 50 feet of earth and reinforced concrete, making them all but impossible to defeat without the use of small tactical nuclear bombs. Furthermore, questions remain about whether the use of military force can actually destroy Iran's nuclear capability or would it simply delay the inevitable. Additionally, Iran has vowed to unleash hundreds of suicide attacks against American targets around the world if such strikes are carried out. National security experts are taking that threat seriously, warning that Iran's international terror network is far more capable than anything al-Qaeda could hope to achieve. Nonetheless, the military options remains in the diplomatic arsenal and the Pentagon has undertaken a number of initiatives should the Bush administration decide to play its military card.
In July, defense officials, select members of Congress, and a number of policy advisors will attend a war game exercise at the National Defense University's National Strategic Gaming Center that will simulate an attack on Iran's nuclear facilities, according to USA Today, April 18, 2006. Unlike traditional war gaming exercises, NDU's day-long conference is designed to gather policy makers together and "discuss how to react to various events presented in a fictional scenario."
Following the alarming mid-April announcement by Iranian President Ahmadinejad that Iran had mastered the enrichment process and entered the nuclear club, the Pentagon has announced a number of initiatives designed to defeat underground facilities like those increasingly in use around the world, including Iran.
The Department of Defense has also been arming munitions with earth-penetrating warheads designed to burrow well beneath the surface of the earth before exploding, in order to collapse underground bunkers. On June 2, 2006, the Department of Defense's Defense Threat Reduction Agency will conduct an experiment, Divine Strake, at the U.S. Department of Energy's Nevada Test Site. It will consist of the detonation of 700 tons (TNT equivalent to 593 tons) of the explosive ammonium nitrate-fuel oil (ANFO) on the ground above an existing tunnel at the site constructed for other research efforts. ANFO is commonly used in mining and blasting operations, and the amount of explosive being used in the experiment was selected to cause various levels of damage to the tunnel. The experiment supports DoD's Tunnel Target Defeat Advanced Concept Technology Demonstration, which is intended to improve the military's confidence in its ability to plan to defeat hardened and deeply buried targets.
By JINSA Editorial Assistant Jonathan Howland