Azerbaijani President Ilham Aliyev visits the USA today.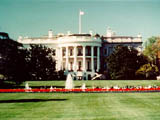 As APA reports, the visit is implemented at the invitation of George Bush. Azerbaijani President's visit is rich with meetings. The Head of state is expected to meet with President George Bush, Vise-President Dick Cheney, State Secretary Condoleezza Rise, Defense Minister Donald Rumsfeld and other officials as well as with congressmen.
Documents in political and economic realm are expected to be signed during the visit.