The official visit of President Ilham Aliyev to US will raise the relations up to the new level, the Azerbaijani Ambassador to US, Hafiz Pashayev stated.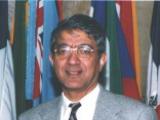 As Trend reports, the future visit has tremendous importance for the development of relations between the 2 countries. He explained the US-Azerbaijani relations before 1994 as introducing stage, later period as close cooperation. The period after 2001 can be called as time of strategic partnership, Ambassador said.
Both sides have defined deliberately the 3 days visit; President will meet both high level officials, Congress members, businessmen and representatives of Azerbaijani diaspora.