The Azerbaijani President, Ilham Aliyev accepted the Vice-Foreign Minister of Kazakhstan, Nurlan Onjanov April 24.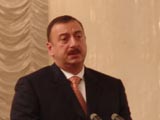 As Trend reports, Onjanov handed over invitation to the President to take part in the II summit of the Asian Trust and Security consultation, that's due to take place in Alma-Ata June 17.
Aliyev expressed his gratitude for invitation and reminded about the last visit of the Kazakh head of state to Azerbaijan. Both officials emphasized the importance of bilateral relations and necessity to keep them at the highest level.