April 21 within the framework of CIS countries foreign affairs ministers meeting in Moscow, OSCE Minsk Group Russian co-chair Yuri Merzlyakov had private meeting with Azerbaijani Foreign Minister Elmar Mammadyarov and Armenian foreign minister Vardan Oskanian separately.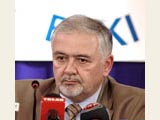 According to APA, Yuri Merzlyakov stated that he had thorough discussions with both ministers on the regulation of Nagorno-Garabagh conflict. Merzkyakov stated that it is high time for Azerbaijani and Armenian Foreign Ministers to hold meeting. Since the time and the venue of the ministers were not discussed the co-chair said that necessity of Azerbaijani and Armenian presidents meeting will be identified in the meeting of foreign ministers.
Expressing attitude to opinion, Russian co-chair stressed his agreement with these words: "It is true that no new suggestion was advanced, but the main principles remains as it is, but some pr?cising, their realization opportunities and other issues need to be reviewed. Though Russian co-chair did not announce details of American co-chair Steven Mann's last visit to the region, has called the visit very significant and efficient."