April 23 political movement Azerbaijan's Way together with Turkish community arranged a action of protest against fake Armenian genocide; the action took place in Ujun, Germany, Asli Khalilgyzy, foreign affairs coordinator with aforesaid movement, informs.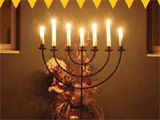 Khalilgyzy said the action had been supported by Turkish youth and other movements of Germany; next action will be held May 2 in town of Feirbacj, then in Izmir, Stockholm and Oslo.

Khalilgyzy said, quoting Guldana Rzayeva, Azerbaijan Way's representative to Germany, the movement is going to arrange one more protest action today in the same city. This action, alongside Turkish people, will be supported by Jewish residents.

She also said the reason for support Jewish communities granted to this action were the documents provided to these communities, which list the names of 87 Jews murdered by Armenians in 1918 in Guba, Trend reports.