The director of the Caspian Studies Program at Harvard University Brenda Shaffer says there was a specific objective behind the recent visit to Baku by Iranian Defense Minister Mostafa Muhammad Najjar.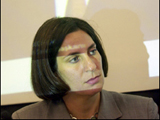 "The Iranians are interested in showing to the world that they have good relations with neighbors because in the event of [US] sanctions or military hostilities, the reaction of Iran's neighbors will have to be reckoned with. This, however, does not mean that the Iranian minister has been putting any pressure on Azerbaijan," Shaffer said.
With regard to the possibility that Azerbaijan may broker a US-Iranian dialogue, Shaffer said it was possible, albeit not necessary.
"The point is that Iran already has such relations with Russia and Europe and there is no need for yet another mediator," she said.
She said it was highly unlikely that Iran might provide Azerbaijan with any assistance in its conflict with Armenia over the Nagorno Karabakh.
"Iran has forged good ties with Armenia and Karabakh. When I was in Karabakh, I saw a great number of Iranian cars there. Obviously, this being the case, Iran would not be able to provide any assistance to Azerbaijan," Shaffer said.
As far as President Ilham Aliyev's upcoming visit to the US is concerned, the researcher said it was a major success of the Azerbaijani diplomacy. She said it showed the geo-strategic importance Azerbaijan represents to the USA, AssA-Irada informs.
"In the event of economic sanctions against Iran, Azerbaijan's borders will represent special importance to the West. Obviously the issue will be discussed by Presidents Ilham Aliyev and George Bush. Under such circumstances, Aliyev may well say to his US counterpart that while Azerbaijan is actively cooperating with the West in such important issues, Baku was also in need of the West's cooperation in resolving the Garabagh conflict. This meeting could produce tangible results," Shaffer said.
/AzerNEWS/