The US Ambassador to Azerbaijan Reno Harnish today held press conference on the occasion of end of his diplomatic mission in Azerbaijan.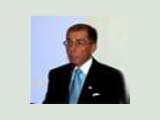 As APA reports, the Ambassador said he had spent three wonderful and fruitful years in Azerbaijan.

"I take pride in having served my government in such historic period for Azerbaijan. The US-Azerbaijan relations have much developed," Mr.Harnish said.
Highly appreciating Azerbaijan working together with the United States to fight international terrorism, the Ambassador said US and Azerbaijan were also collaborating to solve significant economical issues. He reminded US support for Azerbaijan to become member of the World Trade Organization.
Harnish also said he met President Ilham Aliyev today and had talks with regard to the President's official visit to Washington next week. Noting that Mr.Aliyev's three-day visit will be a fruitful, the US ambassador said he will lead the policy on environment, science and oceans at the Department of State, and will work with a lot of people.

Responding to the journalist' questions, Harnish said during President Aliyev's visit to the United States, discussions will focus on democracy, security, economical and political reforms. He stressed that mutual confidence between the two states have strengthened.
As coming to the question on strained Iran-US relations, the ambassador said by its behavior Iran isolates itself from the international community, Tehran's statements case flinch in the international community.
"Now everything depends on head of the IAEA Mohammad ElBaradei's report to be presented on 28 April. If Iran acts in defiance of the UN Security Council head's call, the United States will discuss the Iran issue with the Security Council members," Harnish underlined.
As coming to OSCE Minsk Group American co-chair Steven Mann's visit to Baku today, the US Ambassador said the negotiating process for the settlement of the Nagorno Garabagh conflict continues in the framework of the Prague process.
"Significant improvements have been achieved in agreeing on main principles, which can be basis of a just and long-lasting peace. The United States will do its utmost to remove differences in the stances of the sides," Reno Harnish concluded.