OSCE Mink Group American co-chair Steven Mann has arrived in Baku yesterday after ending his visit to Yerevan, Armenia.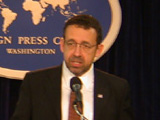 The US Embassy in Azerbaijan informs that the American co-chair will have talks with President Ilham Aliyev today and with Foreign Minister Elmar Mammadyarov, who will come back to Baku from Moscow tomorrow.

Mr.Mann will introduce the co-chairs' new proposals on the settlement of Nagorno Karabakh to Azerbaijani side, and familiarize with official Baku's stance.

Mann was in Moscow before visiting Yerevan. He had talks in Russian Foreign Ministry and with his Russian counterpart Yuri Merzlyakov.
The American co-chair is not due to hold a press conference regarding his visit to Azerbaijan, APA reports.