Armenian Defense Minister Serzh Sarkisian attending military training in the occupied Azeri territories has maintained that despite his country's adherence to peace talks on settling the Nagorno Karabakh conflict, it should improve its military in the meantime.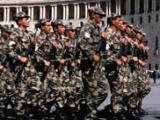 Sarkisian's statements at a time of intensifying international efforts to accelerate the peace process once again prove that the root-cause of the long-standing dispute is not the aspiration of Karabakh Armenians to self-determination, but Yerevan's occupation plans.
The Armenian minister trying to cover up his country's policy of aggression explained his participation in the illegal training activities by what he called Yerevan's acting as guarantor for the security of the self-proclaimed republic until the Karabakh conflict is settled, AssA-Irada reports.
Sarkisian could not but voice his concern over Azerbaijan's warnings it will resume military action to liberate its territories and the country's growing military budget.
"We are not afraid of war but don't want it to happen. An agreement [ceasefire] on the halt of hostilities was reached in 1994 with Russia's mediation. Our troops have already taken lucrative defense positions and we have been supplying our positions with engineering facilities over the past 12 years."
Sarkisian claimed that Azerbaijan's statements that its military spending has doubled are aimed at "blackmail".
/BakuTODAY.net/