The French government, which has become famous in the agenda for its serious political mistakes in a row, is unable to choose the right position not only in its domestic, but also in foreign policy.
Although some experts say that this problem stems from the historical tradition and characteristics of France, some of the statements of Emmanuel Macron, who is the current president of the country, overshadow all the opinions.
With his unique statements, Macron is literally writing a new history of France.
The French president claims that there is no politician or head of state in the world who has made more efforts to solve the problems of Armenians. He even says that he is working harder for this than Nikol Pashinyan, the Prime Minister of Armenia.
Based on Macron's behavior, it can be said that in the history of France, there has not been a second head of state who wanted to be so zealous for the Armenians, behaved as sinful before their eyes, and humiliated his own country so much. It is necessary to ask why Macron behaves like this in relation to Armenians, what made him do this? Why has the French president become so dependent on the Armenian lobby? There could be two answers to this question: either Macron is indebted to the Armenian lobby for his election as the president, he has undertaken a commitment to them, or his Anti-Islam, Anti-Azerbaijan and -Anti-Turkiye sentiment and his deep hatred of all above make him take such a position. Macron's behavior suggests that both factors act as a motive for his actions.
By saying that he works harder than Pashinyan, Macron clearly demonstrates that he is more Armenian than Armenian nationals. His own country is falling apart, the number and severity of problems are developing on an upward line, protests have covered the whole country, the situation is actually out of control, and instead of dealing with all this, the French president reports to the Armenian lobby and declares that he is working with all his might. From here, a logical question arises, is he the president of France or Armenia? When he was elected president, did he swear to serve the French state and people, or Armenia and the Armenian people?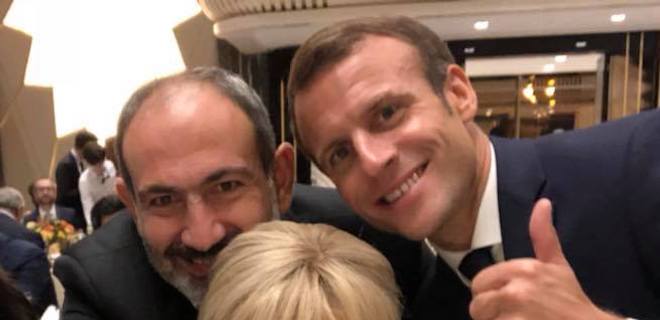 Macron declares that Pashinyan is the biggest obstacle to solving the Karabakh issue in favor of Armenians. He actually convicts Pashinyan of high treason. Macron already exceeds the boundaries of political ethics, makes extremely irresponsible statements, behaves like Hugo Chavez, Fidel Castro. It is very difficult to name a second head of state who has dealt as much damage to the international reputation of France as Macron, who is obsessed with Bonapartism, and trampled the values of France as much as him.
Macron says that he put pressure on the President of Azerbaijan, but the results show that not only did his pressure not work, but the President of Azerbaijan did not even take Macron's efforts and position seriously. Macron lost the relative advantage he gained in Prague in Chisinau, and despite his efforts, Armenia found itself in a more difficult position. Armenia, which is now going along the path of Syrianization, is already facing the danger of losing its state independence. It can be said that Macron has done a "disservice" to Armenia.
Macron implores the heads of 3-5 Armenian organizations to believe in his sincerity. He even promises to strengthen his efforts and work harder. But everything he said leads to such a logical conclusion that Macron is alone in the Armenian issue, and there is no second head of state or head of organization in the world who supports his position. How far and where will Macron be able to go with his suitcase? There is still a second problem, what will be the result of the strict upheavals that are happening in France today.
Macron's pressure limit on Azerbaijan has already expired. Attempts to influence President Ilham Aiyev did not work, the crusade of French media and politicians against Azerbaijan was ineffective, and attempts to use the European Union as a means of pressure on Azerbaijan did not take place. It is clear that Macron is in a very desperate situation and now he is trying to strengthen his arsenal by making false promises.