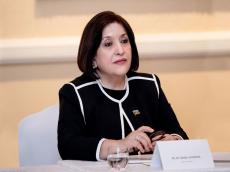 "Today our Armed Forces are adequately fulfilling their duties in defending the regions liberated from occupation and protecting the state border.
The chairman of the Milli Majlis Sahiba Gafarova said this at today's meeting of the extraordinary session of Parliament, Azernews reports, citing Milli Majlis.
According to the speaker, the bravery shown by the Azerbaijani army under the leadership of Supreme Commander-in-Chief, President Ilham Aliyev in the 44-day patriotic war, was forever imprinted in the heroic history of the nation: "Armenian armed forces that had occupied Azerbaijani lands for 30 years were defeated, and our native lands - Karabakh and East Zangazur were saved from enemy occupation. The courage and selflessness of martyrs, who gave their lives for the restoration of historical justice, and territorial integrity of our state, wounded soldiers, and officers in the battles will never be forgotten.
S.Gafarova said: "We are sure that the Azerbaijani army will develop further, strengthen its positions and take place among the strongest armies of the world. I congratulate the victorious Supreme Commander-in-Chief, President Ilham Aliyev, heroic soldiers, and officers, and all servicemen on June 26 - Armed Forces Day, and wish new successes in the honorable mission of protecting national interests and military security of Azerbaijan.
The Azerbaijani Ministry of Defence has published a video dedicated to Armed Forces Day on 26 June.